Business IT News &
Technology Information
8 Surprising Reasons that Your Hotel Wi-Fi Could Mean Big Profits
Hotel Wi-fi- has always been an excellent way to bring in more traffic. Below are eight ways that having strong, reliable wi-fi can have a significant impact on your bottom line and why it's one feature you shouldn't skimp on.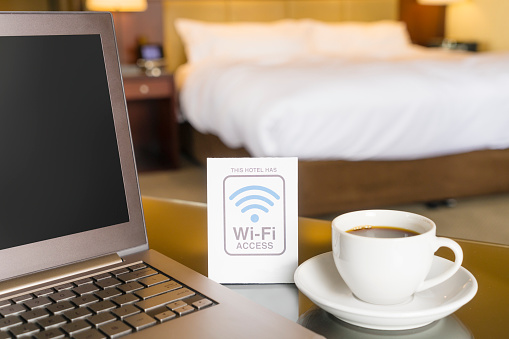 Wi-Fi seems to be a lifeline these days. There are apps in endless supply to help you find Wi-Fi hotspots no matter if you are in an airport or waiting in the lobby of a doctor's office. Having Wi-Fi is an excellent way to improve traffic to your business but what does it mean for hotels? Forrester Research reported that 94% of those surveyed agreed that the most important thing that they look for in a hotel is quality Wi-Fi throughout the hotel and in their rooms.
The following are the 8 Nonnegotiable Rules for Hotel Wi-Fi and how Wi-Fi can make a big difference for your bottom line:
Serve your guests
Hospitality is vital when you own a hotel. There is an importance placed on providing and serving your customers whether they have just flown a few hours, or driven for nine – they still need to be served. Wi-Fi is a key part of this service. Ensuring that your customers are comfortable and well taken care of now includes providing high-quality Wi-Fi.
Secure your network
It shouldn't be surprising that a Wi-Fi attack on an open network can take less than two seconds. While serving the needs of your customers, it is important to also protect your business. Having a Wi-Fi network leaves your company and its data vulnerable. Remember to secure you your Wi-Fi network by using a suitable firewall, profiling, and IDS/IPS. It's also important to keep the software up to date on your computers in order to be able to efficiently monitor and protect your business.
Plan for capacity
Hotel Chatter reports that 94% of people cite Wi-Fi as the most important amenity. This means that you should assume that 94% of your guests will be using your Wi-Fi, at least. Just as you should plan on how many rooms you can support, you need to plan for how many devices that your Wi-Fi network can support. This helps you to better support and serve your hotel guests. USA today reports that hotel guests typically use the hotel Wi-Fi within seven minutes of checking in. This means that often before your guests have a drink at your bar, swim in your pool, or workout in your gym, they are using the Wi-Fi.
Adjust for demand
Similarly to planning for capacity, you should also expect to adjust to meet the change in demand. If your business grows, so too should your Wi-Fi capabilities. Not having a strong enough Wi-Fi to support the needs of your clients could be just as damaging, if not more so, than, say, the hotel's pool being shut down for renovations. This is especially important when you are working with corporate guests. Corporations will not book with hotels that have faulty or inadequate wireless internet service. This would snowball into a corporate shutout, as other large companies would make similar decisions, all of which would have a drastic impact on your profits.
Access points
Access points are the key to the high performance of your Wi-Fi. Access points need to be where your customers need them most, in their rooms. This lowers interference and provides higher data rates. All of this improves the performance of your Wi-Fi network and leads to happier hotel guests. It is reported that 72% of travelers prefer Wi-Fi over wired connections, which shows you that having only a wired connection instead of a Wi-Fi access point in the room is no longer acceptable.
Track and monitor performance
You wouldn't hire someone, place them in an office, and then leave them for years without so much as a checkup, right? You continuously monitor and measure your employee's performance to ensure that they continue to aid the business and meet the needs of your customers. The same should be true of your hotel's Wi-Fi – you need to check and measure its performance often to ensure your customers are getting the best service possible.
Picking the right Wi-Fi partner
One of the most important decisions is which provider to partner with for your Wi-Fi network. This is when it is especially important for you to know how many devices you will need to provide for. It is vital that you know how many devices you'll need to support, as well as how many access points you feel you need to accommodate your guests. These will be your non-negotiating factors when choosing a partner that is right for you and your hotel. Keep in mind this partner will represent you to your customers, so if they aren't reliable, and your Wi-Fi is cutting in and out during their stay, then you will have to waive or refund fees to customers, which would mean a loss in profit.
Wi-Fi should be free
The J.D. Power 2016 North America Hotel Guest Satisfaction Index Study reported that free Wi-Fi is one of the three most essential amenities that customers look for when deciding on a hotel. Wi-Fi, breakfast, and parking were the top three listed. If forced to choose, 71% of hotel guests said that they would select free Wi-Fi over complimentary breakfast or free parking. Not only could this impact the traffic brought to your hotel, but it could also affect what customers are willing to pay. Research shows that often customers are eager to pay more for a hotel with confirmed reliable Wi-Fi connectivity. This gives them peace of mind that once they check into the hotel, they will be able to complete their work or stream their shows without any interruptions.
Hospitality doesn't end with check-in – Hotel Chatter explains that 38% of those surveyed say no Wi-Fi is a deal-breaker and will book elsewhere. Given how important Wi-Fi is to your guests, you should know what your needs are, and what the performance capability of your network is. These simple rules will help you better serve your customers during all of their current and future stays. Imagine if your Wi-Fi wasn't performing at its peak – that would mean you could lose out of 71% of your business which would make a significant impact on your bottom line. Often, we fret over business expenses, but Wi-Fi shouldn't be one, as it will provide the most significant return on your investment.